The JC Metalworks Health and Safety belief
We operate on a 'zero tolerance' policy for health and safety, and for our people here at JC Metalworks, this is paramount. We firmly believe that health and safety – especially in the manufacturing industry – should be more than just a formality.
Health and safety should be a necessity, and as such, we ensure that all of our staff, from directors through to our engineers and manufacturing technicians, are aware of all health and safety checks, processes and risks.
Personal Protective Equipment
Personal Protective Equipment (PPE) is key for technicians working in many of the services offered by JC Metalworks, and every technician and craftsman is made aware of all equipment needed in order to complete their tasks successfully, and more importantly, safely.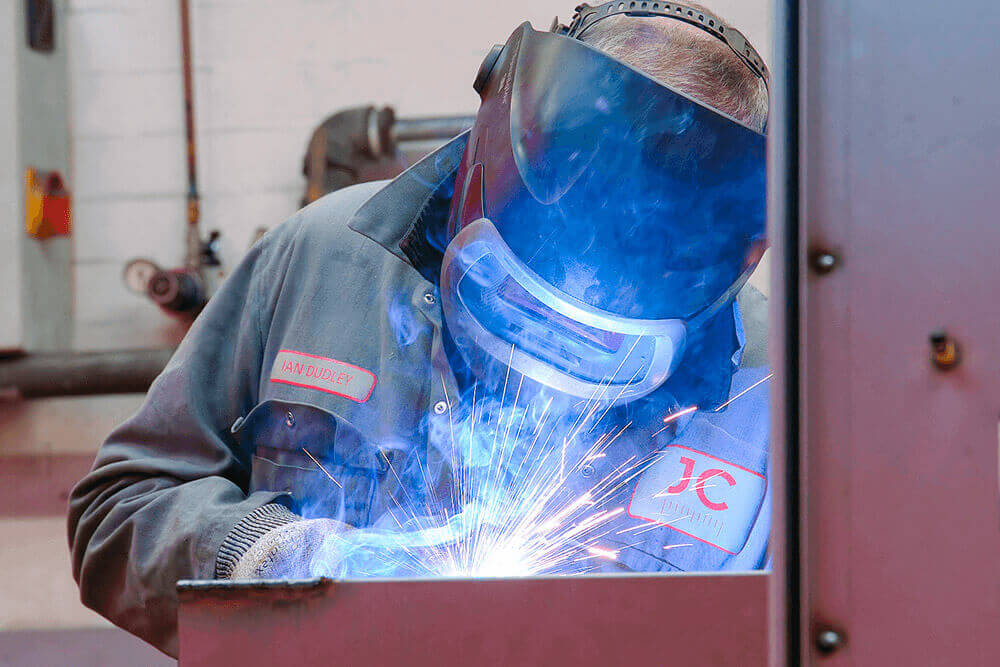 All equipment, from PPE through to specific technical equipment and machinery, is regularly reviewed and checked to ensure maximum safety protection for our staff members, clients and all visitors.
Every member of JC Metalworks staff are required to use work wear including standard safety boots which are provided. These boots feature steel toecaps to protect employees' feet if items are dropped or scraped along sharp items.
Welding masks, face visors and gloves (welders gauntlets to protect from burns, cut resistant gloves for protecting against sharp cuts), overalls and, for sufferers of disorders such as asthma, specialist respiratory masks are all used where relevant (dependant on the department) to protect the safety and health of our staff.
Health and Safety Processes
Every member of JC Metalworks will undergo manual handling training upon starting work, and this is refreshed regularly. Additionally, safety processes, procedures and equipment are communicated to each staff member and, where necessary, visitors also.
Around the facility, marked areas identify 'safe' areas for staff and visitors to walk freely without entering areas where potentially dangerous work is being completed (for example welding or cutting), for each machine, light guards are in place which ensure if an individual passes this beam of light, the machine will automatically stop. This protects individuals from getting too close to moving machines and putting themselves at risk, whilst still allowing machine operators access to use the machinery.
In addition to this, to protect the safety and security of our team and visitors, a signing in and out process is in place, and CCTV cameras are installed throughout the JC Metalworks facility.
Our health and safety manager has an engineering background, and has himself developed a trolley system to transport products from department to department, saving staff members and visitors the risk of cuts, muscular and skeletal issues from carrying heavy items. It also provides peace of mind in relation to reducing potential damage to products, whilst minimising time and providing a more cost-efficient process.
In the instance of fire and evacuation, every department within JC Metalworks has a fire marshall who is trained in safely and quickly evacuating every individual within their area. Evacuation and emergency alarm tests are completed regularly, ensuring every member of staff is aware of the nearest emergency exit and rendezvous points.
All machinery, lighting, fire extinguishers and electrical equipment are regularly tested and maintained by external experts to ensure they are working efficiently and safely.
In this safety critical environment, there are many hazardous chemicals that are necessary for cleaning and operating all machinery. Risk assessments have been completed around these substances, with measures in place where necessary and all risks communicated to staff members.
A dedicated member of staff is tasked with ensuring that all areas of the manufacturing floor, as well as all office, showroom and outdoor areas meet the high standards expected.
Discover more about JC Metalworks