Product Manufacturing – Project Managed from Enquiry to Delivery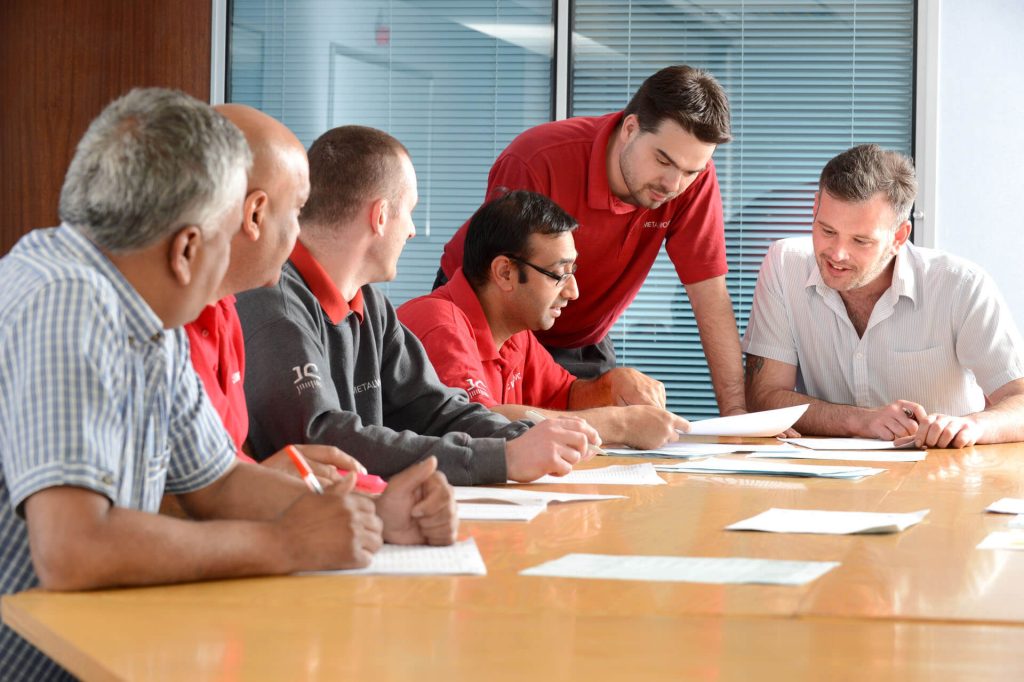 Manufacturing metal work in high volumes, and indeed product manufacturing per se, often involves the juggling of many elements of production all at once in order to create a final finished and assembled unit.
When multiple manufacturing services, parts and materials are required, it can involve dealing with several separate manufacturers, processes and timelines all at once. This potentially slows down production as well as creating additional work and cost arranging, liaising and organising each element separately.
That's why our sheet metal work manufacturing company puts such a strong emphasis on providing the very best product manufacturing project management expertise. We work hard and smart to ensure that the manufacture of your final finished product is as painless as possible.
Our project managers work closely with our design engineers and skilled craftsmen to make the most of the sophisticated machinery and equipment within our facility for the benefit of each and every client we work with. For every brief we receive, the end product will be thoroughly assessed to understand where we can improve quality whilst reducing lead times and costs for our clients.
Top Tips for Project Management in metal manufacturing
1
Plan
Critical for identifying goals, reducing risks, recognising deadlines, and ultimately delivering a great product and excellent customer service.
2
Communicate
Daily catch ups and progress meetings are vital. Consistent and effective communication between all parties is key.
3
Understand
Knowing what your customer wants and when they want it by is just the beginning. You need to familiarise yourself with the finer details.
4
Monitor
Continuing to monitor progression means you can confidently deliver accurate information. Transparency is essential.
5
Evaluate
Assessing a project and measuring its success will pave the way for improvements. Gathering feedback and adapting processes will make each project more and more effective.
For our Company, the manufacturing of a metal product is focused around quality and customer satisfaction. No product starts manufacture until our engineers are certain it meets the specifications required by our client.
Typical examples of projects managed by us include point of sale stands, display units and retail fixtures and fittings, HVAC systems, electrical enclosures and lighting systems.
Having worked in the metal manufacturing industry for over 30 years, there isn't much that we haven't seen or done so do get in touch to discuss which of our metalworking services, including project management, that your project can benefit from.
Our Metal Work Project Management & Manufacturing Process
Our product manufacturing processes are strictly adhered to and our team works with an ethos of 'measure twice, cut once'. This process is used all the way through the production of a metalwork project: from engineering and design to final assembly and packing.
Beginning with planning, our experienced project managers will work with you to fully understand your manufacturing needs and the timescales involved. From here, the Production Controller will liaise with our design and engineering teams to develop a product design and technical engineering drawings for the client to approve. This is the stage where our talented metalwork designers and precision engineers will work to add the most value to a product by adapting its design to ensure the manufacture of it is efficient and is as streamlined as possible.
Once approved by the client, the Production Controller will schedule the manufacture of the product. The production will take place using the extensive in-house manufacturing facilities available to us, and delivery or collection of the finished product will be arranged.
Manufacturing & Production
Various services and techniques may be used to create your product: from laser cutting for creating precise shapes, through to the punching, forming and fabrication of your products to achieve the required form.
Our innovative and skilled craftsmen will create products for our clients using high tech machinery and equipment, using tried and tested production techniques. Once manufacturing has taken place, the product will be ready for the next phase: finishing, which often includes powder coating.
The product will be sprayed, to meet your brand colours and finishes, in our automated coating system. Once cured, the product can move onto final assembly and packing.
Product Assembly, Packing & Despatch
Our product assembly and packing teams can assemble a finished metal worked piece as well as the final unit (including, for example, electrical elements, joinery, plastics such as acrylics etc) ready for delivery. Our specialist team can also liaise with a client's chosen supplier for other materials to save the client time.
Wishing you a wonderful retirement: Piotr Gorny
Coming from varied backgrounds and with different abilities, employees play a crucial role in the success of an organisation. Some blend in with the company's work culture and stay for many years, while others move on. It is the long-term…
JC Metalworks Placement : Giles Davis
A JC placement is very beneficial for young people who are pursuing a degree. It allows them to apply the knowledge and skills they have been learning within a working environment and gain hands-on experience for their future career. Giles…
Our Services
The complete end-to-end solution under one roof.