Custom Metal Formers of Metal Sheet, Tube & Wire Parts & Products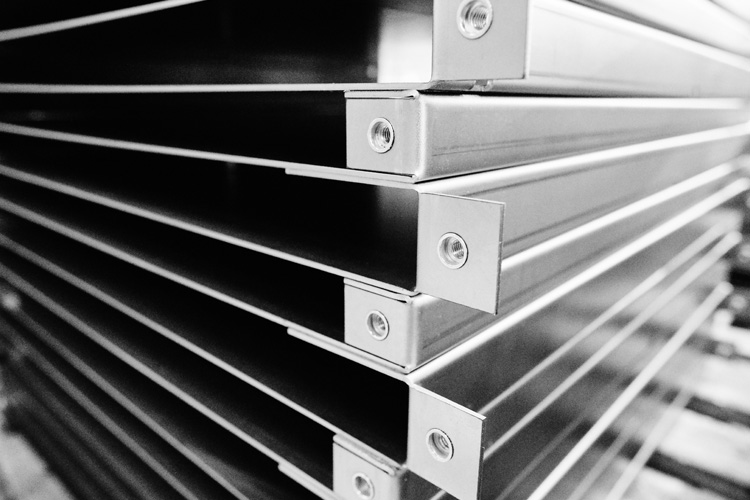 Custom metal forming, shaping and bending is a key component in the precision metal manufacturing process here at JC Metalworks, perfectly complementing our design and precision engineering, fibre laser cutting, CNC metal punching, welding and fabrication, metal finishing and product assembly services.
Using lean manufacturing and 5s techniques here at our metal forming and manufacturing facility, we not only ensure top quality but also productivity advantages for our clients including faster turnaround and cost-efficiencies with our custom metal forming.
Primarily, our manufacturing takes place at our Loughborough, Leicestershire headquarters and metal works, where we offer high volume, turnkey metalforming and metal bending solutions that include the following:
More often than not, a flat piece of sheet metal is folded to form part of the finished product without adding or removing any material….
Typical examples of products created using these metal forming tools and processes include the manufacture of point of sale units and retail fixtures, HVAC systems and electrical enclosures, along with lighting systems. Having working in the metal manufacturing industry for over 30 years there isn't much that we haven't seen or done so do get in touch to discuss your requirements.
In addition to sheet metal forming, we also offer tube forming and wire bending services to enhance our production capabilities. In partnership with a selection of trusted suppliers we can offer a wide variety of production techniques to supply parts quickly and competitively.
Quite often, designs which would not be possible to manufacture in sheet metal can be possible using wire bending as it is possible to bend wire in three…
An umbrella term for the forming processes used to permanently form pipes or tubes. Here at JC Metalworks, we are able to offer metal tube forming capacity…
Top Tips for Metal Forming & Metal Bending
1
Understand the product
Identify the requirements and the processes needed to get there. Our years of experience mean we are able to form some of the most challenging products on the market.
2
Decide on the right method
Work out what machine or tool would be the best suited to create the part you require. This ensures efficiency in every process.
3
Check the quality
Work closely with other departments to ensure quality checks are being carried out throughout the products manufacture process. We have skilled operators and tech supports on hand to help maintain the standard.
4
Keep safety first
Have the required training along with up to date risk assessments to ensure the safety across all working practices. At JC Metalworks, we always put safety first.
5
Identify improvements
Evaluating the products and the process regularly means you can spot ways to improve the outcome - in both efficiency and quality. From design to packing, all of our departments are committed to making improvements wherever possible.
Steel, Aluminium, Copper & Brass Metal Forming Suppliers
Our commitment to further inward investment and having our manufacturing facilities on-site in the UK ensures our place as leaders in the UK metal forming manufacturing and fabrication industry.
The metal bending and metal shaping tools we employ offer unrivalled reliability and repeatability, which means that our precision engineering team are able to ensure that our clients' metalforming projects are turned around efficiently within tight timeframes.
Coupled with a high level of expertise, our metal shaping and metal banding tools and processes also guarantee quality, accuracy and excellent performance, ensuring that we offer you high quality parts or components through to fully finished products each and every time.
Climbing The Career Ladder
Talent is everywhere but all too often opportunity is not. We at JC Metalworks believe that excellent leadership is about building up the people around you: trusting them, empowering them, and ultimately enabling them to contribute their expertise so that…
Steve Harcourt's Retirement Fish 'n' Chips Party                 
Employees play a vital role in the success of a company. JC Metalworks acknowledges each phase of its employees' personal and professional lives appreciating all the positive contributions made by team members towards the success of the company. After serving…
Our Services
The complete end-to-end solution under one roof.