Metal Parts & Assembled Products Labelled, Stored and Despatched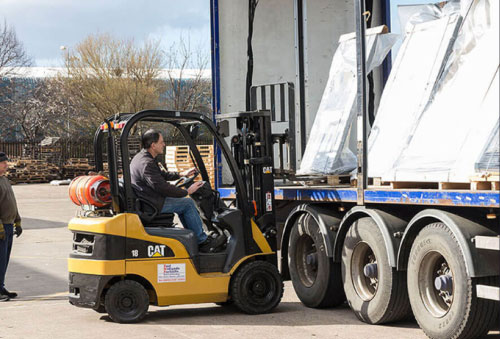 It could be assumed that, given all of the parts and assembled products we manufacture are fundamentally made from metal, they will be secure and robust in transit. However, that's not always the case. Many of the finished products we produce are branded or constructed with plastic or electric components and care must be paid to ensure the integrity of the product in readiness for use and application.
Ensuring that all relevant previous manufacturing stages have been completed accurately and successfully, our project management team will liaise with the client to agree delivery dates, times and locations.
Top Tips for Storage & Despatch of Metal Parts and Assembled Products
1
Final Check
Despatch is the last chance to ensure our customer receives the correct amount. One final check means you can guarantee the customer is getting what they need.
2
Professional loading
First impression is everything. We make sure the vehicle is loaded professionally and efficiently as this is the first thing the customer sees.
3
Store it well
Storing our customers finished product is important to us. When there is a long term agreement in place, we have all the relevant parts listed in an inventory, and make sure this, and the parts themselves, are easily accessible.
4
Secure the load
The driver is not the only person responsible for the safety of the vehicle and its load, everybody employed in the logistics industry should be aware of the rules in the DFT code of practice.
5
Reduce the logistics cost
Carefully select the vehicle size and explore opportunities to consolidate shipments if you can.
It's important to JC Metalworks that completed products are finished and delivered on time. As such, all of our specialist metalworking staff work together to create the finished product ready for assembly, packing and delivery on time, using either our dedicated vehicle fleet or via our trusted, nationwide logistics service provider at an agreed time with our client. Until it is time to despatch, we store them on-site in our state-of-the-art warehouse.
Typical examples of the assembled products we store and despatch from our Loughborough manufacturing facility include point of sale stands, display units and retail fixtures, HVAC systems, electrical enclosures and lighting systems.
Please don't hesitate to get in touch with us at our Loughborough, Leicestershire based manufacturing facility to find out how we can use our product assembly expertise for your benefit today by using our contact form or by calling us on 01509 233280.
Fabrication Operative | Job Vacancy | Loughborough
A fantastic opportunity to join an established team at our state-of-the-art manufacturing facility in Loughborough, Leicestershire. Due to an increase in sales, we are looking for 3 fabrication operatives who have substantial experience of working in a fast-paced manufacturing environment….
Celebrating 10 Years of Service – Maciej Miler
We are proud of our staff retention at JC Metalworks and are thrilled to announce another 10 year service achievement in our team. Maciej joined JC Metalworks in January 2011 and has been a valuable team member over the last…
Our Services
The complete end-to-end solution under one roof.