Product Manufacturing with Precision in the UK
Being one of the UK's leading manufacturers of high volume fabricated metal parts and products, once those parts or components are complete, the precision manufacturing and product assembly process can take place.
Within the assembly stage of production, it is imperative that the product is thoroughly checked for any inconsistencies from unit to unit. Our team of manufacture and assembly engineers provide this quality assurance and also ensure that each individual unit is cleaned before being packed in readiness for despatch.
Having the ability to assemble products in-house allows us to oversee the entire product manufacturing process – from metal laser cutting, CNC punching and forming through to fabrication and finishing, and finally to assembly, pack and despatch. This provides clients with a great deal of convenience and reassurance knowing that the co-ordination of transport etc. is taken care of. Overall, this saves a great deal of time and provides you with peace of mind that the job will be completed on time and to budget.
Typical examples of products that are precision manufactured and assembled by us include point of sale stands, display units and retail fixtures, HVAC systems, electrical enclosures, machine guarding, self serve kiosks and lighting systems.
Having worked in the precision product manufacturing industry for over 30 years, there isn't much that we haven't seen or done so do get in touch to discuss your precision manufacturing and product assembly requirements.
Top Tips for Product Assembly & Packing
1
Have the tools available for the job
Quality management is focused not only on the product and service, but also on the means to achieve it.
2
Communicate regularly
Mis-managed delays can cause a lot of inefficiencies for the assembly department. We make sure to keep our internal teams as up to date as possible.
3
Keep safety at the forefront
Raise awareness to help understand potential hazards. Ongoing staff training and tool box talks are key to the safety and success of any assembly team.
4
Check goods received
Make sure to do a thorough check for damages, correct specifications & quantities.
5
Don't compromise on packaging
The quality of the packaging is very important and often undervalued. It keeps the product secure, ready for despatch and ultimately in pristine condition for the customer.
Precision Product Manufacturing, Product Assembly and Packing Services
Our commitment to further inward investment and having our manufacturing and product assembly company facilities on-site in the UK ensures our place as leaders in the high volume UK precision manufacturing industry.
With a dedicated product assembly area within our Loughborough facility, we can assemble your final product using a wide range of components including electrical elements, branding, joinery and plastic parts. These are then packed efficiently to ease the transport process.
Even if your final product requires components that are not made of metal or haven't been manufactured at our plant, we can use our trusted network of suppliers to save you time and money. We can source all of the parts that are required for the final assembly of the finished item on your behalf – the choice is yours. Either that, or our project management team can liaise with your chosen supplier for those non-metal materials.
Please don't hesitate to get in touch with us at our Loughborough, Leicestershire based precision product manufacturing facility to find out how we can use our product assembly expertise for your benefit today by using our contact form or by calling us on 01509 233280.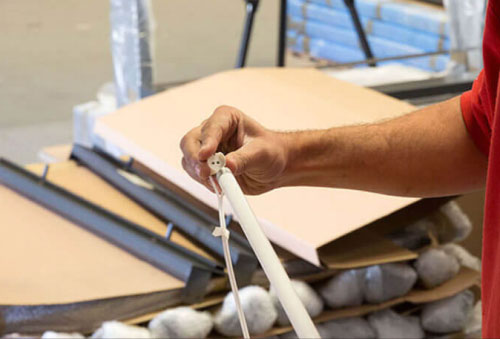 Wishing you a wonderful retirement: Piotr Gorny
Coming from varied backgrounds and with different abilities, employees play a crucial role in the success of an organisation. Some blend in with the company's work culture and stay for many years, while others move on. It is the long-term…
JC Metalworks Placement : Giles Davis
A JC placement is very beneficial for young people who are pursuing a degree. It allows them to apply the knowledge and skills they have been learning within a working environment and gain hands-on experience for their future career. Giles…
Our Services
The complete end-to-end solution under one roof.