Why JC Metalworks?
JC Metalworks as a precision sheet metal subcontractor was formed in 1986 by Jack Chauhan.
The company was built on four main principles – maintained to this day.
These principles make up a culture that is reflected throughout all areas of the manufacturing services undertaken by JC Metalworks. We are proud of our reputation for quality manufacture of sheet metal products for a variety of industries.
Engineer or Reverse Engineer
Precision in Product Design, Engineering and Manufacture
From precision engineering through to final assembly, our team of precision metal manufacturers can assemble a complete final product. This includes electrical work, fitting of non-metal elements (such as wood, graphics, glass etc.), or the assembly of various sheet metal elements.
Our team will arrange packaging and palletise all units for delivery to the client. This process enables us to save on time and cost, as our in-house team will manage the whole precision metal manufacturing process, cutting out much of the co-ordination and planning work for our clients.
Investment in Staff, Equipment and Processes
We are proud of our reputation for developing the skills of our employees and ensuring that all of the production services offered by us are carried out using the best precision manufacturing processes and equipment available to us.
This ensures that our clients receive the best service from our team, and all metalworking products that leave our facility are manufactured to the highest standard, therefore adding value for our clients.
Highly important to our team of precision metal manufacturers here in the UK is the commitment to building long-term partnerships with customers based on delivering high-quality products, adding value to projects, and exceeding expectations. Our employees work hard to understand and deliver what matters most to our clients – only then can we be truly confident that clients will become delighted partners.
JC Metalworks International
We combine the expertise and experience of our Leicestershire-based precision metal working team with trusted partners in the Gujarat region of India to undertake part of the metalworking process for some products (as well as expanding into the manufacture of products using other materials, such as wood, acrylics, glass and electrical items) before final completion back in the UK facility.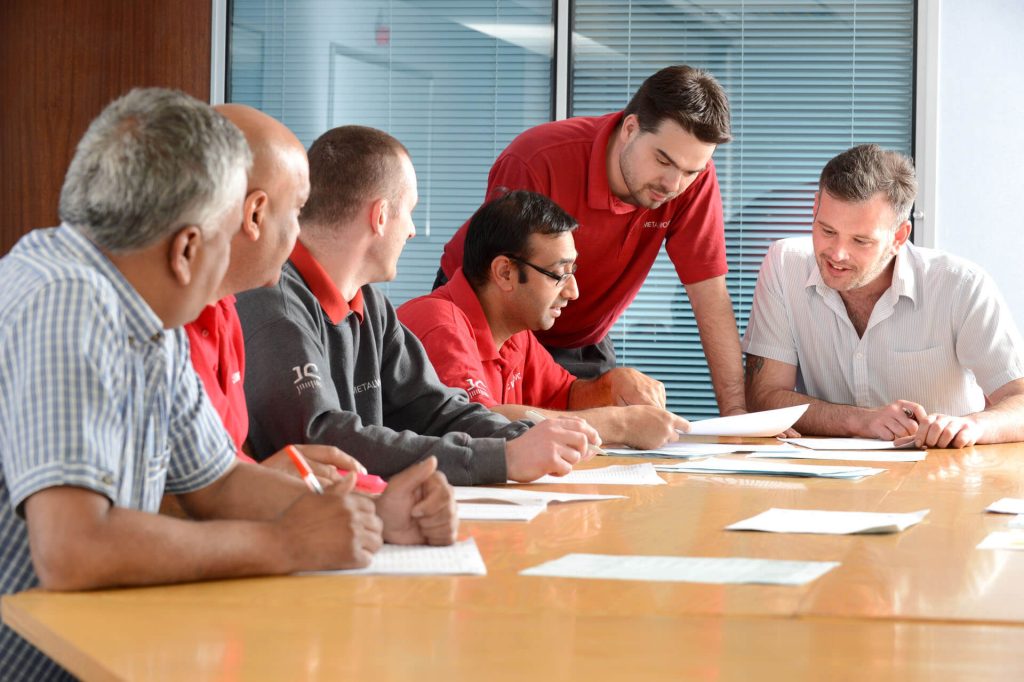 With the Chauhan family originating from Gujarat, the JC Metalworks management have an understanding of the culture and can speak the local language. This local knowledge will ensure that we maintain strong relationships and working standards in the region. It also enables JC Metalworks to remain competitive in the market place, whilst providing the level of support clients require.
The facility in India allows us to manufacture larger volumes on a competitive basis without affecting quality. This opens up opportunities for our clients to support their brands globally and cost-effectively, while still making the most of our teams' skills and experience.
If you need support with any element of product manufacture, contact one of our team members today on 01509 233280 to see how JC Metalworks can help.
Specialists in Retail Fixtures & Fittings Manufacture
Our specialist Retail Division has manufactured a variety of displays, fixtures and fittings, point of sale and other products for several well-known retail brands such as Debenhams, Adidas, Nina Ricci, and Marks & Spencer – to name a few.
With the ability to manufacture various different shop fitting and display items, from free standing units for clothing, to bespoke point of sale stands for cosmetics and perfume, our precision manufacturing team works with retail clients to develop their designs into a finished product, ready for delivery to stores.
Discover more about JC Metalworks
Wishing you a wonderful retirement: Piotr Gorny
Coming from varied backgrounds and with different abilities, employees play a crucial role in the success of an organisation. Some blend in with the company's work culture and stay for many years, while others move on. It is the long-term…
JC Metalworks Placement : Giles Davis
A JC placement is very beneficial for young people who are pursuing a degree. It allows them to apply the knowledge and skills they have been learning within a working environment and gain hands-on experience for their future career. Giles…