Specialist UK Manufacturer of Bespoke Metal Enclosures for HVAC Systems
We started our Engineering Apprenticeship Scheme back in September 2015 when we welcomed our first three Apprentices. Since then, six Engineering Apprentices are going through our programme and further Apprentices will be joining us each year.
Throughout their three years, our Engineering Apprentices attend College on day release. They also receive coaching and support from their mentors who are designated Team Leaders, from HR and from their Line Managers. Additionally, Loughborough College's Assessor is a valuable and welcome additional resource for our Apprentices to call upon should they feel the need.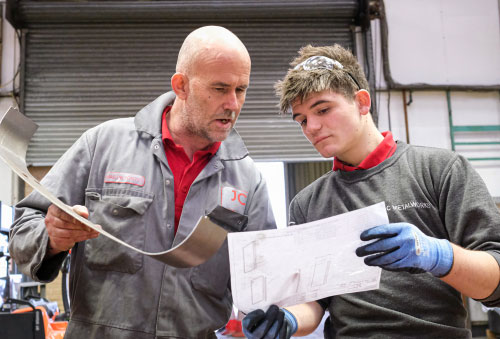 Our Apprenticeship Scheme is a rolling three year program
Year 1Our Apprentices spend time in each department to gain an understanding of our whole business. This helps them to make an informed decision in year two when they specialise. It also helps them understand the manufacturing process. In each department our Apprentices keep a log book, which is used in their assessment with our partner (Loughborough College) and produce a short report detailing what they have learnt at the end of their stay. This report develops report writing skills, verbal and written English skills and presentation skills.
Years 2 & 3Our Apprentices specialise in a department i.e. Cutting, Forming or Fabrication. Once the department where our Apprentices will specialise has been agreed, the Apprentice then has two years where they attend college to obtain their qualifications with workplace assessments also being carried out by the College in order to ensure that their learning meets the requirements of the course. A College Assessor comes to our site monthly to conduct the workplace assessments, including reviewing log books and observing the Apprentices in the workplace. This is where the foundation disciplines of completing log books and documenting learning becomes very useful for our Apprentices, in order to provide the work-based learning evidence required by the new Apprenticeship standards.
"I have really enjoyed my time as an Apprentice at JC Metalworks. We have been given the opportunity to gain a wide variety of knowledge and skills working across each of the different departments. I've also been given the opportunity to work alongside the engineering department in the office as a CNC Laser & Punch Programmer which has increased my knowledge even more. I now understand, in much more detail, the process of how each job is created."
"As well as being at work I have been going to college once a week to achieve the Level 3 qualification, which has given me a better understanding of engineering in not just manufacturing but as a whole topic."
"I am thoroughly enjoying my experience as an apprentice here at JC Metalworks. Although only in my first year, I have already gained a vast array of knowledge and skills in fabrication, welding, CNC laser and punchcutting."
"In addition to this I have been attending college one day a week, working towards a level three qualification, gaining both theoretical and practical knowledge in the engineering sector."
What Opportunities Exist At JC Metalworks For Me?
We want to encourage talent and skills in our business at all levels. We believe that's how people and our business will continue to thrive. To illustrate the point here's a quick story. One of our Engineering Apprentices recently successfully applied for an internal job (RADAN Programmer), which takes him off the shop floor and into the Engineering Department. This is the first step in him training to become a Design & Development Engineer and was a direct result of the way we ensure all our Apprentices get to experience each part of our business, with us working with them to ensure they get to work in an area that best suits their skills and ambitions.
Whether you are looking for an opportunity to join us and are aged 16 – 18, or are finishing University and looking for your next challenge we are interested in hearing from you. Please contact us at info@jcmetalworks.co.uk
What Skills and Characteristics Are We Looking For?
We know that it's often difficult for school leavers and some University leavers applying for Apprenticeships as they may not have a wealth of work experience. We understand that and are looking for the following qualities to shine through:
Punctuality
Reliability
A real interest in the job
A willingness to learn
…and an example of either voluntary work or paid work that you have undertaken would be good too!
In short, we are looking for people who are hungry to learn, who have a positive attitude and who work hard and are always looking to do better. Working together we will all achieve more.
More about our Apprenticeships
A Manufacturing Apprenticeship with JC Metalworks: The Inside Scoop
Earlier this month, we decided to have a proper sit-down chat with our apprentices to find out a bit more about how they came to us, how they're finding life at JC and their ambitions for the future. It was…
Apprentice Open Day Review
Keeping with the theme of all things Apprentice we wanted to share with you what our Apprentice Open Day looks like and to encourage anyone who might be interested in becoming a JC Apprentice to find our more and /…