Sheet Metal Punching is a key part of our Metal Cutting Service
CNC metal punching is a key component in the high volume, precision metal manufacturing process here at JC Metalworks. Perfectly complementing our design and engineering, laser cutting, forming, welding and fabrication, finishing and product assembly services.
As part of the cutting stage in metal manufacturing, punching metal is where a piece of sheet steel or another metal is cut into a specified flat shape ready for further precision manufacturing processes.
Whether it be aluminium, copper, brass or steel sheet metal, we offer CNC metal punching for components or finished products that are an accurate and cost effective solution for a wide variety of applications.
Amada EMZ3610 CNC Turret Punch
One of the most automated sheet metal punching cells, with automated tooling flexibility, the Amada EMZ 3610 CNC Turret Punch is one of the most productive machines on the market.
Our commitment to further inward investment and having our manufacturing facilities on-site in the UK ensures our place as leaders in the UK metal cutting and fabrication industry.
Typical examples of products created using our metal sheet punching processes include the manufacture of point of sale units and retail fixtures, HVAC systems and electrical enclosures, along with lighting systems.
Having working in the metal fabrication industry, punching steel, for over 30 years there isn't much that we haven't seen or done so do get in touch to discuss your sheet metal cutting requirements.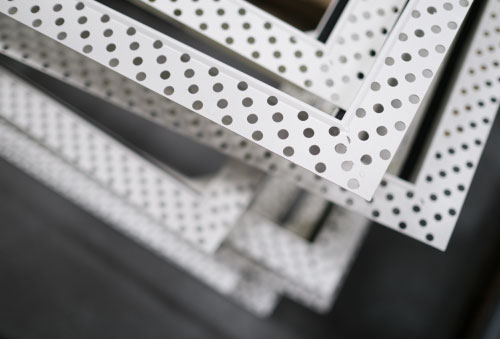 The Benefits of CNC Sheet Metal Punching
Our design engineers will work with you to create the design of your product for manufacturing. They will then offer you the most cost-effective way to manufacture the item using our in-house sheet metal manufacturing tools and services.
When cutting sheet metal, there are two options: laser cutting and cnc sheet metal punching. Whilst cutting by laser offers a precise and often highly specific sheet metal shape, cnc punching, especially when punching steel, can be a more cost-effective and inexpensive option when cutting more commonly-shaped products.
The set up for cnc punching is more extensive than lasering. However, due to our Amada Turret Punch's automatic online tool changer, which has the capacity to hold up to 220 tools, the time needed for this stage is reduced. As a result, this cuts the costs for clients.
As part of our metal punching services, the JC Metalworks' 'fast access' metal storage system allows for an even quicker manufacturing time for punching sheet metal. As a result, even small batch CNC metal punching production can be cost-effective for clients.
Please don't hesitate to get in touch with us at our Loughborough, Leicestershire sheet metal works to find out how we can use our high volume metal cutting expertise to create your flat, shaped, metal product or component today by using our contact form or by calling us on 01509 233280.
Estimator | Job Vacancy | Loughborough
We are looking for an Estimator to join our well-established family business with a 60,000sq ft state of the art sheet metalwork facility in Loughborough. We have a superb reputation with our employees, customers and suppliers and provide excellent service…
Celebrating 10 Years of Service – Shubh Karan Singh
Here at JC Metalworks we love to recognise and reward loyalty in the workplace. With this in mind, last month we celebrated Shubh Karan Singh's 10th anniversary at the company. After moving to the United Kingdom in 2011, Shubh Karan…
Our Services
The complete end-to-end solution under one roof.