Metal punching, also referred to as sheet metal punching, is the process by which shapes are cut from metal, such as stainless steel, for example.
It forms part of the cutting stage in metal manufacturing and is usually followed by further precision manufacturing processes.
Thanks to the variety of tooling and machines, metals of various thicknesses can be punched into complex shapes with great effect.
The metal punching process is a relatively simple one:
A metal sheet is positioned in the punch press, sandwiched between the die and the punch. (It's the die that holds the custom shapes to be punched
When activated, the punch press will then move down towards the die, cutting away the surrounding material.
These steps are repeated until the desired shape has been achieved.
This process allows us to produce cutouts and holes in high-strength metal materials quickly and with high accuracy. There are standard shapes, like rectangles, circles and squares, ordered into particular patterns, although more complex shapes are available.
The Amada EMZ 3610 CNC Turret Punch drives the punch downward at high speed through the sheet and into the die below, with more than 1000 strokes per minute we achieve high speed and repeatability. The turret is capable of holding 45 different tools at once which drastically reduces the tool time change.
Punches and dies of standard shapes are typically used, but custom tooling can be made for punching complex shapes. Our machine is capable of producing 3D forms such as louvers, dimples, countersinks, screw threads, and electrical knockouts using specialist tooling. The key advantages of turret punching are that the speed of punching is very high, and the metal is not subjected to heat.
Amada EMZ3610 CNC Turret Punch
One of the most automated sheet metal punching cells, with automated tooling flexibility, the Amada EMZ 3610 CNC Turret Punch is one of the most productive machines on the market.
What Is A CNC Punching Machine?
There is a range of sheet metal punches available and CNC is one of them. CNC stands for Computer Numerical Controlled and refers to how a machine is instructed to manoeuvre sheet metal into the correct position under the punching ram. From here, the machine will produce holes with high precision and speed.
Whether it be aluminium, stainless steel or steel sheet metal, we offer accurate CNC metal punching for components or finished products as a cost-effective solution for our customers.
What Are Metal Punches Used For?
At JC Metalworks, our sheet metal punches are used to manufacture:
Logistics lockers
Digital signage and kiosks
HVAC systems and power generators
Electrical enclosures
Vending and dispensing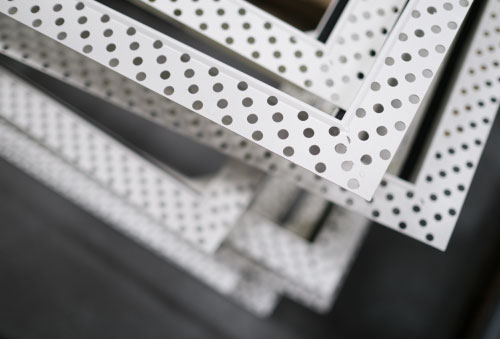 The Benefits of CNC Sheet Metal Punching
There are two main benefits of CNC sheet metal punching:
It can handle a broader range of thicknesses than other punching machines.
The tooling can create numerous complex shapes dependent on the function of the metal.
Our CNC punch press perfectly complements our other precision metal manufacturing processes here at JC Metalworks, including:
Design and engineering.
Fabrication.
Finishing.
Forming.
Laser cutting.
Product assembly
Welding.
Laser Cutting vs CNC Sheet Metal Punching
When cutting sheet metal, there are two options: laser cutting and CNC sheet metal punching.
Whilst cutting by laser offers a precise and often highly specific shape, CNC punching can be a faster and more inexpensive option. It's particularly suited to creating more commonly-shaped products from steel.
Sheet Metal Punching At JC Metalworks
We've been punching steel for more than 30 years, and so it's fair to say that we've seen and done it all.
By keeping our sheet metal punching on-site in the UK, and maintaining a commitment to investing in these facilities, we've become leaders in the UK metal cutting and fabrication industry.
When you choose to work with us, our design engineers will design your product to your specifications, ascertain the most cost-effective way to produce them and then get to work to turn your product around quickly.
For example, we make use of our Amada Turret Punch's automatic online tool changer (which can hold up to 220 tools), speeding up the punching process and cutting client costs.
In addition, our 'fast access' metal storage system allows us to further reduce manufacturing time for metal punching.
It's these little time and cost-cuttings that allow us to provide an exceptional service to our clients at a fantastic price.
Our facilities are located in Loughborough, Leicestershire. If you'd like to find out more about our high-speed punching operations, and how we can create your product quickly at a great price, please complete our contact form or call us on 01509 233280.
Steve Harcourt's Retirement Fish 'n' Chips Party                 
Employees play a vital role in the success of a company. JC Metalworks acknowledges each phase of its employees' personal and professional lives appreciating all the positive contributions made by team members towards the success of the company. After serving…
Wishing you a wonderful retirement: Piotr Gorny
Coming from varied backgrounds and with different abilities, employees play a crucial role in the success of an organisation. Some blend in with the company's work culture and stay for many years, while others move on. It is the long-term…
Our Services
The complete end-to-end solution under one roof.