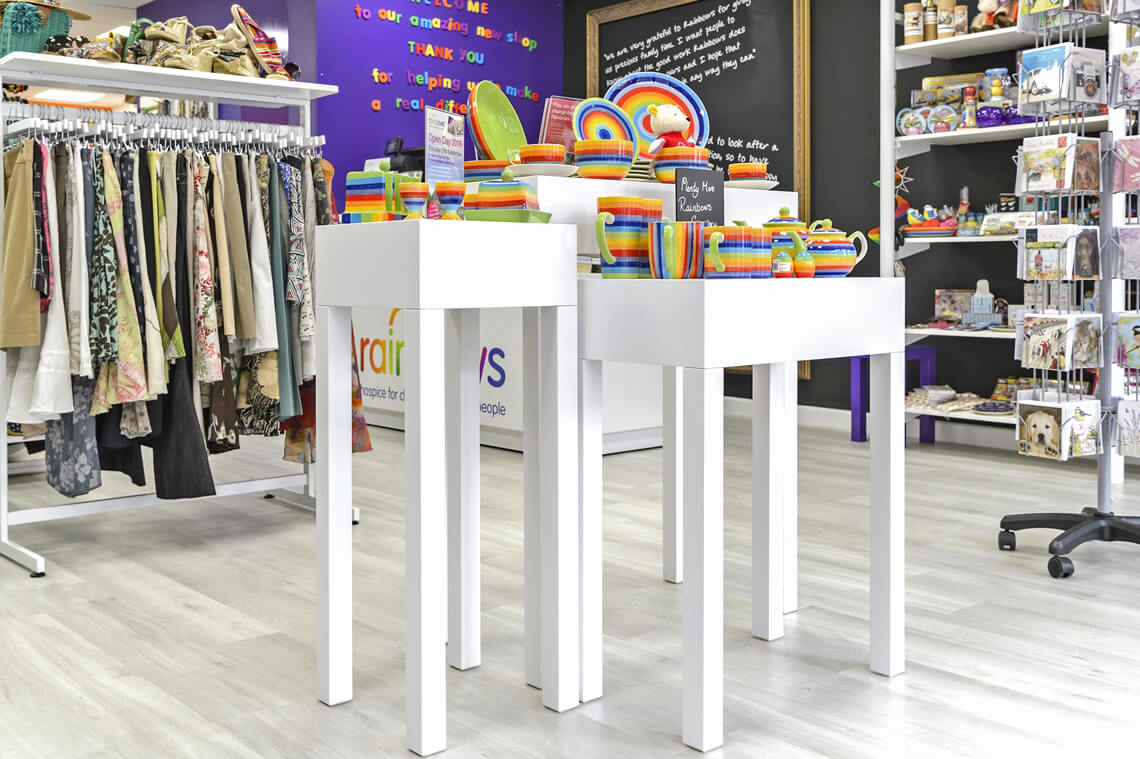 We have decades of experience as designers and manufacturers of multi-unit, retail shop fittings, display units, product display cabinets, retail shelving and shop racking for display in the UK, having worked with many renowned agencies, leading consumer brands and high street retailers such as Marks and Spencer, Miss Selfridge, Topshop, Burtons Menswear and Debenhams.
When it comes to the manufacture of multi-unit, bespoke metal shop fittings and metal shop display racking, many important factors within the retail environment must be taken into account. It is therefore important for us to have a clear understanding of your needs, both current and potential, when we undertake the design and manufacture of a retail fixtures and fittings project. We understand that your retail fixtures and fittings can make a real difference to the success of your store.
Our experienced fixtures and fittings specialists will work with you to understand the needs of your stores and retail outlets, your customers and your product, to develop bespoke shop fixtures and fittings that are fit for purpose and most effectively display your stock.
When displaying products such as clothes, technology items or home furnishings for big name brands in a retail environment it is important that your free-standing metal shop racking and rails are not only eye-catching enough to effectively display your products, but are also functional and durable enough to ensure they last. We understand that they will also need to withstand certain weights and shopping environments, including busy sale periods.
We are proud of our experience and confident that we really understand the needs of visual merchandisers, store staff and shop fitters. As such, our precision engineers are able to manufacture fixtures such as display racking, shelving and other metal fittings that are eye-catching, attractive, functional and long-lasting.
We've worked for some great clients
UK Manufacturers of Metal Shop Fixtures & Fittings
Your dedicated Project Manager will work with you and our UK engineering and operations teams to ensure your retail fixtures and  fittings are completed in a cost-effective manner, on time and on budget.
Each product that we create undergoes an initial quality check at our Loughborough, Leicestershire metal manufacturing facility. Our Quality Assurance team thoroughly examine every item to ensure that your fully-assembled shop fixtures and fittings are completed to the highest standards and are ready for despatch.
We also offer an in-house state-of-the-art powder coating facility to help create eye-catching retail shop fittings. A wide range of coating options are available to help you convey your brand's identity. Electrostatic powder coating and chrome plating can also serve a protective purpose to ensure that your shop racking, fixtures and shopfittings can weather several seasons in store.
Whether you have complete technical drawings and simply need a precision manufacturer or you require creative design engineers to bring your idea to life, we can produce high-quality fixtures and fittings to display your products.
For more information about how we can precision manufacture metal shop racking, retail fixtures and fittings in high volumes for your retail stores, please get in touch use our contact form or call 01509 233280 today.
We design and make a wide range of display cabinets for use in many different industries and locations and over the years we have designed and manufactured many bespoke display units, as well as retail fixtures and fittings for use in a wide range of stores including:
Toy Stores
Home Furnishings Stores
Sporting Goods Stores
Cosmetic Halls
Clothing Shops
Electronics Shops
Garden Centres
Estate Agents
Shop Display Fixtures and Fittings
Shop Racks and Shelving for Clothing
Free Standing Units (FSU's)
POS Stands
Display Racking
Tables
Display Plinths
Shelving Units
As one of the UK's leading cosmetic display stand manufacturers, we supply bespoke cosmetics multi-units, display stands and holders to many of the country's most well-known retailers.
We are the UK's leading precision manufacturer of multi-unit, bespoke metal retail point of sale stands (POS) for shop floor promotion and display for some of the world's biggest retail brands.
Whether you need sheet metal supermarket shelves, gondola shelving or bespoke store shelving for your retail store, we can design and manufacture high-end product displays to meet your requirements.
Estimator | Job Vacancy | Loughborough
We are looking for an Estimator to join our well-established family business with a 60,000sq ft state of the art sheet metalwork facility in Loughborough. We have a superb reputation with our employees, customers and suppliers and provide excellent service…
Celebrating 10 Years of Service – Shubh Karan Singh
Here at JC Metalworks we love to recognise and reward loyalty in the workplace. With this in mind, last month we celebrated Shubh Karan Singh's 10th anniversary at the company. After moving to the United Kingdom in 2011, Shubh Karan…
More Bespoke Solutions
Suspendisse id mi condimentum ullam corper eros a pharetra est pellentesque.